Coordinator CIC energiGUNE held an oral presentation and presented a poster of the project during the conference on 19-21 January 2021.
We are proud to announce that Ana Caterina Lopes of coordinator CIC energiGUNE won best visual presentation . The title of the presentation was 'HIGREEW Aqueous organic redox flow battery: from materials development to final prototype integration'. Please note, the poster is (partly) confidential, and therefore not displayed in this item.
A total of 23 speakers were able to discuss their recent research work on flow batteries during the poster session of the conference. Presentations were heard from many flow battery companies and developers, with news about recent projects (such as the HIGREEW project) and technical developments. Speakers and participant joined the conference from all over the world to cover the role of flow batteries across the power industry and highlighted many important R&D areas – with views on the role of organic electrolytes, improvements to membranes and separators, and analysis of whole system costs and operating patterns for storage.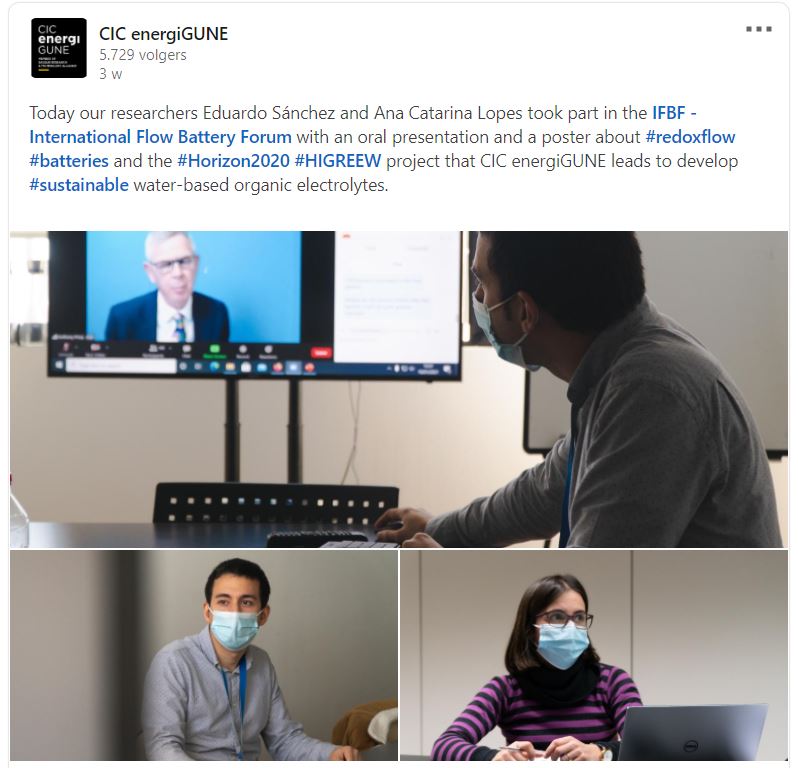 Want to read/view the complete conference? You can still buy a ticket to go through the finished presentations.