Result from partners FRAUNHOFER, CIC energiGUNE, SGRE and GAMESA.
Result has been achieved in March 2023 in month 41 of the project.
All the work from different project partners, from material to cell development, culminated in the development and construction of a 5-kW prototype battery container as final result of work package 4 of the HIGREEW project. The construction of the HIGREEW prototype was successfully completed and shipped to the "La Plana Hybrid Facility" where commissioning has already started.
Objective: To develop and construct a 5-kW-scale flow battery prototype container based on aqueous organic electrolyte solutions
Research: All the results from preceding work packages and the expertise and input from other project partners were used to develop and build the HIGREEW prototype according to the specifications defined in the beginning of the project. The battery was constructed to fit inside a 10-ft container.
Result: Construction of the container was completed and shipped to "La Plana" at the beginning of March 2023. Immediately after delivery commissioning started with filling the tanks with the HIGREEW AORFB electrolyte solution.
What will it be used for: The HIGREEW prototype will now be fully integrated into the "La Plana Hybrid Facility" where it will be tested to work with various renewable generators, like wind turbines and a solar power plant.
Impact: The prototype should produce insights into the operation of a medium-scale organic flow battery installation which has direct implications on further upscaling of the technology to develop and produce large-scale grid storage facilities.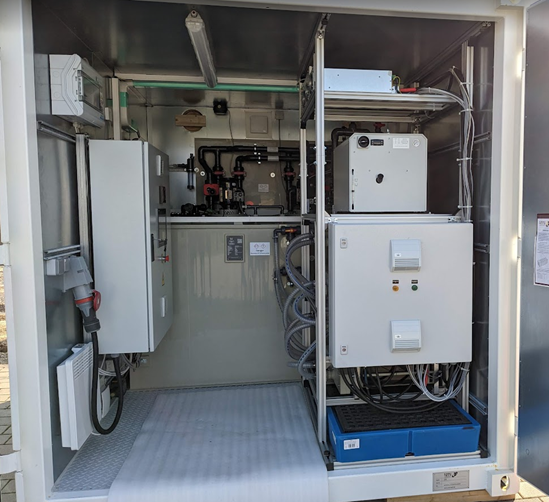 Completed battery prototype, shortly before pickup at Fraunhofer ICT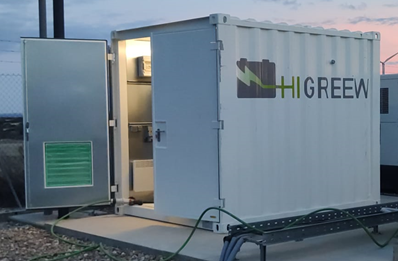 HIGREEW prototype container in "La Plana"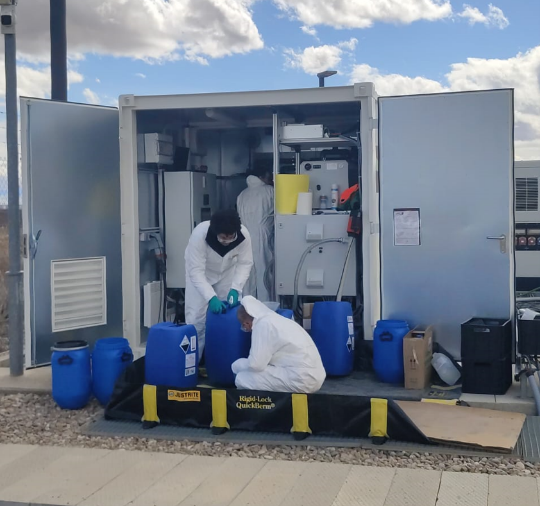 Filling of battery tanks after installation in "La Plana"