On January 15, 2021, the La Plana Facility of Siemens Gamesa has been officially certified by the DNV.
La Plana test bench of the partner Siemens Gamesa was granted the grid code compliance certification by DNV GL.
The La Plana Facility (located in La Muela, Zaragoza, Spain) is a hybrid generation and storage power plant, mainly used for testing and experimentation of new technologies. It counts with multiple assets, such as windfarm, photovoltaic plant, lithium battery, etc. This plant will be used to test the final prototype of the HIGREEW battery in a real renewable energy plant environment.
– You can find a presentation on the facilities here.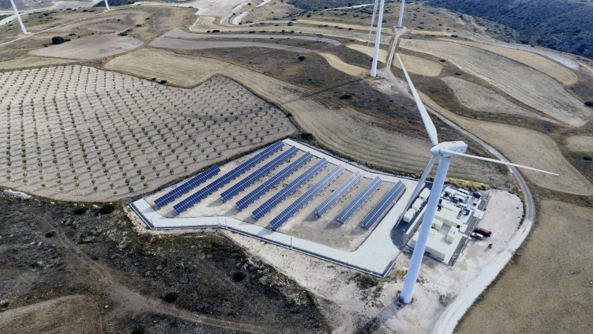 The facility itself has been certified to be used as a hybrid generation plant, to be connected to the grid. You can read the full announcement below and an announcement by the DNV here.
The pilot plant was commissioned in 2015 to explore the potential of hybrid power. It combines 850 kW of wind power, 245 kWp of solar photovoltaic panels three optional diesel generators and two types of battery energy storage technologies with a novel hybrid plant controller (HPC) that manages the mix of generating technologies in real time. This is one of the most innovative installations in the hybridisation of wind turbine, solar energy with diesel integration and storage.
The Type Certificate for control behaviour and other grid code requirements, based on tailored testing approach within existing specification, proves the potential to support grid stability and features specially developed tests for control functions that are not yet covered by international guidelines. This certificate aims to demonstrate that hybrid plants can meet the requirements for a wide range of grid supply applications, from frequency response or ramp-rate control to energy arbitrage and peak shaving.
"Hybrid plants combining different sources of green energy with storage may prove key to providing stability to electricity grids in the future and help make renewable energy even more reliable. The requirements for renewable generation plants are becoming more demanding every day, and the assets commissioned in every project are going to be quite different from one project to another because the right assets will depend on renewable resources, grid requirements and so on. Thanks to La Plana test site SGRE is ready to validate any control solution or asset to meet any of these requirements." said Alberto Alonso Cantalapiedra, Head of Renewables and Storage Power Plants Integration Testing.